Wednesday, July 04, 2012
I bring you people some wonderful news, I have two interviews and a basic skills assessment at Central Sussex College HQ on Friday for some Office Administration roles! Fingers crossed I can get one of the roles! :) Meanwhile I attended the All England Club at SW19 on Monday to watch some tennis and managed to see a corker of a match between the lovely Maria Kirlenko and Sheui Peng that went to a final set on Court 12! I was hoping to make my debut on the new 'Graveyard Of Champions' Court 2 but the rain scuppered any hopes in the evening of getting a resale ticket there! Only frustrating thing is it rules out getting a ticket to see the mighty Seagulls take on Chelski in pre season friendly, though I am an Albion season ticket holder I did not quite have enough points anyway so will keep an eye out for spares but its only a friendly end of the day and would rather get tickets for big cup match!

Finally I leave you with this wonderful photo from 1996 Wimbledon Championships! Richard Krijceks wonderful smile at the maid thats run onto the court! :) Happy Independance Day to any American fans by the way! :)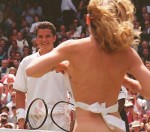 Saturday, June 23, 2012
Hello all yes I am up late in the evening checking this blog and for some reason seems to be attracting more unique visitors than when it was active! lol Incredible! But deciding to briefly take this blog out of semi retirement. I am still based at the lovely Strike Towers, and currently looking at apprenticeship oppertunitys in office admin, after some advice from a lady at the local church (yes it can do good sometimes! :) )!
I managed to attend Eastbourne with Roger Russell and Bruce Wells for the tennis! Quite a highlight seeing Caroline Wozniacki and Rory McIloy wandering around Devonshire Park together even if they are not performing well! I am planning to invade the grounds of the All England Club next week for some more tennis action! So anyone interested in coming let me know!
Finally look forward to watching England take on Italy, heart says England can do it even if head says maybe Italy will win and remember if we win will be only our 3rd Euro semi final in our history! But Come on England! I think we will beat Italy but maybe will come unstuck against the Gerries in the next round!
Anyway readers have a good weekend and will try out a few more blog entries the next month before deciding if its worth continuing or put the blog into storage and maybe bring it out of retirement for fun some point in the future! See ya!
Thursday, June 09, 2011
Hello long time no talk, in truth not a lot has happened the last month or so apart from endless celebrations of the Albions promotion and looking forward to their new Stadium in July, and the tennis coming up in Eastbourne. Well as I said the situation has not changed much the last month, and to be honest I feel a little bit down, I am still doing the endless helping out at charity shops, and keep asking Connexions whether I could do some office work. Meanwhile my two younger brothers, have managed to get full time employment jobs, one working at Sainsburys the other as a Security Guard. Then there is their older brother stuck at his flat, hoping for eternally that the oppertunity will come along. I feel like I am stuck in a mouse trap, and in my spare time resort to either reading history books, trying to learn Spanish, messing about on computers, adventuring to the local pub and getting the train down to Brighton to enjoy some proper dance music at Audio and Concorde 2 (often going alone as hardly know anyone into the music I am into, can be hard to find someone that not only wants to go out, but shares a common music taste), I am not the geek that never goes out. I am having problems sleeping, just wish my life will change, with some serious help to get me into a proper full time work, people that actually 100% understood me. :( It's a bit of a shyte life, and wish it was better, I sometimes feel a little useless. Anyway thats all.