Wednesday, April 13, 2016
13th April 2016
So in the last 2 weeks, I have resumed volunteering activities at Nymans, though there is a fair bit of work going on in the house apart from the main areas visitors visit, it has been great being back with volunteers warmly welcoming me back, and showing people around the place again.
I have enjoyed the art club organised by Vanessa Cumper and was honoured when my suggestion that its name should be Artshake was approved by other members, even though been a bit shy and did do some unusual art in tribute to Neighbours Doug Willis that passed away on show recently, it has been fun coming along to the lovely Blazan Lounge café and hopefully will be creating more masterpieces soon.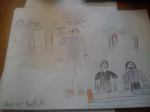 So aside from the Neighbours addiction due to hotel explosion, and an interesting drinking adventure after the Brighton Burnley match with the GDC gang around the wet streets of Brighton. I have bought a new improved laptop recently and have got some plans to turn to vlogging soon, although I want to still keep blogging, watch this space people.