Thursday, March 31, 2011
Hello again, been a little while but I am still here and alive. Anyway been some new things, I am currently helping out at Ifield Watermill Museum a sleepy place just outside town still hoping this could give me a new career direction! Generally outside that been karaoke singing, playing kamakaze pool and sorting out season ticket in North Stand of new Amex Stadium!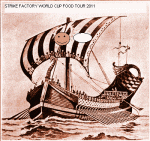 Plus I have resumed my cooking course with Chrystel, cooking food around the world! It has influenced me to try a dish and tipple from the 20 nations that are taking part in the Rugby World Cup this year! I will be sampling dishes ranging from England itself to Romania, and Georgia! My world cup food challenge will begin next week when I will be helping out cooking a French dish and will give you a review of each dish!
Nations involved are
A
New Zealand
France
Tonga
Canada
Japan
B
Argentina
England
Scotland
Georgia
Romania
C
Australia
Ireland
Italy
Russia
USA
D
South Africa
Wales
Fiji
Samoa
Namibia
Tuesday, March 08, 2011
Ouch I have badly neglected this blog, but it still lives on! lol Well for starters what have I been doing for the last month. I would like to note firstly that this time next week will mark one year since I moved into Strike Towers aka my first flat in Three Bridges and will spend the next week giving it a good old cleaning and decorate some bits I have not bothered to do (yes not quite everything has been done silly me. haha)

Secondly I have been looking for possible work experience with local museums in Crawley and possibly elsewhere in Sussex, main place of interest has been the Ifield Watermill Museum which is not far from my parents manor! This is to broaden the experience I have to add to the hard work of Oxfam, St Catherines Hospice and some business admin experience I have to boost my uncertain prospects for work full time!

On the way to purchasing an Albion season ticket from someone who has now moved to New Zealand (the lady in question was not involved in tragic Christchurch earthquake luckily), arriving at Brighton Station in quick time, I got on a 20 bus to Woodingdean, but somehow took me on a tour on every road of this suburb on the downs, bar the road I was due to meet the person eventully to prevent getting lost arranged an alternative place to meet in Woodingdean!

Brighton and Hove Albion continue full steam into the Npower Championship with a match winning goal by Liam Bridcutt that caused the Withdean faithful to go wild like never before in almost 12 years of football at the temporary home of the Seagulls! The goal was such quality that even Manure and Gooner fans would even be in awe of its beauty.

http://www.youtube.com/watch?v=XVXPHizUvBY&sns=fb

Anyway I leave you with this clip of a remix of a classic Sonic The Hedgehog theme by an up and coming DJ called CliffHanga aka Pete Clifton, that attended the Haywards Heath branch of Central Sussex College like yours truly well I slightly recall the lad anyway from my time there. Keep an eye out for that name in future!


http://soundcloud.com/cliffhanga/sets/sonic-themes/


Wednesday, February 09, 2011
I would like to thank Colin and the team at Oxfam for a wonderful meal at Pizza Express last week it was a later meal than planned and a nice way to celebrate the last year with other members of staff. The cheesecake thankfully nowhere near as scary as feared and was nice to see some members of staff making intresting fashion statements ranging from Rays colourful shirt to Colins Nickel55on shirt! It has been great helping out at Oxfam and hopefully will carry on making the shop a suscess entertaining employees plus mentoring the hardworking youth that help out at store sometimes!
Apart from that not a lot has gone on the last week, although I do have plans to visit Hartfield the home of Winnie The Pooh and bring a review of the Sussex village thats home to Britains most famous bear! Plus upgrading my training for my long term return to long distance running!
Finally I leave you with this tune that was the theme to a certain popular Channel 4 Sports show for the nineties and early noughties!
http://www.youtube.com/watch?v=upFmi6KruUc