Saturday, February 18, 2017
Well its been a few months since I last posted a blog entry, but after break of few months I am back. Hoping 2017 will bring more than last year especially some work and a girlfriend hopefully.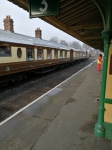 Anyway aside from banging on about the Albion and the tennis, I did visit the Bluebell Railway last week, a great preserved railway line that in the last few years has managed to suscessfully link up with national network at East Grinstead and already long term plans to link up with the Brighton mainline via Ardingly with extra platform space existing at Haywards Heath just in case. Well East Grinsteads rail isolation from Sussex since 1960's seems over albeit its just preserved railway lines. I arrived at East Grinstead to begin this vintage rail journey a bit later than planned due to underestimating the less frequent bus transport links between Three Bridges and East Grinstead. Technically the Bluebell station is virtually a separate station from the modern Network Rail/ Southern managed station with the latter just to the north, you are greeted to the arrival of a fine vintage steam train at the sole platform with the station designed in the 1960's British Rail era (the time the Three Bridges-Tunbridge Wells line via the old East Grinstead High Level Station was closed). The journey begins south travelling over the Imberhorne Viaduct bring back memories of schoolmates from the town boasting stories of their adventures or misadventures on the then abandoned rail bridge. But is nice to see the viaduct back to its original use after recalling the sad lonely state it was in for several years.
Each station is designed in a different era of British rail with Kingscote set in 1950s British rail era, Horsted Keynes the original true Southern Rail era of 1920's/ 1930's and Sheffield Park the Bluebells chief HQ set in the Victorian/ Edwardian era of the LBSCR (London, Brighton & South Coast Railway). I wonder if next one will be designed in the good old British Rail Network South East era of the 1980s/ 1990s? Anyway Sheffield Park Station has a fine museum and is near the National Trusts Sheffield Park with a manor and historic cricket ground that hosted an early clash between England and Australian cricket teams. Horsted Keynes Station is possibly the largest preserved railway station with 5 platforms having been a junction railway station until 1960's serving trains on East Grinstead to Lewes line and the Ardingly spur line that connected it to the Brighton Main Line. Plus is a fave of tv and film crews due to its preserved early 20th century state and Bluebells catalogue of trains and carriages of various eras with the 1999 version of The Railway Children, and Downton Abbey having filmed scenes there. Though does not have quite as much history museum stuff as neighbouring Sheffield Park Station, it does have a fine refreshment cafe in the middle island platform, a little works museum and loved the 1930 posters in the waiting room along with staff in attire of that era. Towards the end of my visit a Pullman train showed up at Horsted Keynes, popular train for lovers of vintage trains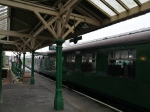 . All in all a good visit and maybe have to visit some other historic place next, but blog won't always be about that I promise.
Monday, October 31, 2016
Still recovering from a great weekend, starting off seeing Brighton win 5-0 and stopping off in Burgess Hill with football friends on the way to party in Crawley to do a little karaoke gig at The Potters in Burgess Hill, singing the usual Mike Flowers Pops cover of 'Wonderwall' and then uniting with the Hassocks Fatboys football squad for their cover of 'Truly, Madly, Deeply', then racing off to The Swan Pub for the Halloween Disco but having to go as Peter Parker in Albion shirt as did not have time to change at Strike Towers but was a great evening overall.
Apart from health scares of one or two people I know I have been fine. I have got plans to attend Lindfield Bonfire Parade rather than Lewes due to screwed up trains this year, and trying my best to hold the fort amongst the chaos. But cheers for reading and the great evening people and will update in near future with more news. :)
Monday, October 03, 2016
Hey there my first blog article since the summer and there is a good reason for that. Due to me battling stress and anxiety and feeling better and over one hurdle only for another one to come along the death of Marie in July, but I feel I am getting over that now and ready to move on with life. But I have had a good circle of friends and family try and help out esp those I have befriended at Blazian Lounge cafe in Crawley for their retro computer/ board game night (which was thought up by yours truly after visiting a bar in Manchester that had something similar), its an end of an era there but I am sure i will keep in touch with much of the gang there including Monkey (Meow!) and respect to Adrian and Shoosh the lovely hosts of the events there. Plus I had a great time at Jamie Van Der Westhuizens 40th birthday party last month after the Albion match. Its all keeping me sane and out and about.
So I have been carrying on with my volunteering and i am starting up an advanced website design course at good old Rewards Training. that could lead to projects beyond Strike Factory Plus finally still reeling from the shock of Holly Bartons death in Emmerdale which was well acted by the lovely Sophie Powles who I had the honour of seeing perform in Ghost Train at Capitol Theatre in Horsham last year, and Natalie J Robb who plays Holly's heartbroken mother Moira, it was certainly the best soap Emmerdale last week. But hopefully will catch Sophie in another theatre show in area soon.