Sunday, June 08, 2014
I have mostly been making plans for the next month including attending tennis events in Eastbourne and possibly Queens and WImbledon depending, so there will hopefully be some photos and other stuff from those events! Plus looking forward to seeing my fellow Old Abbotsfordian up and coming comedian Stephen Foster perform at the Dukebox Theatre in Brighton later this month, should be good show! Plus postponing plans to visit Manchester and Coronation Street for the moment, sorry I will be there soon! :)
Well 6 days to go until Englands campaign begins and been pondering following the success of my analylis of the GDC fantasy Euro 2012 event about setting up a Strike Factory fantasy league for those that are interested in taking part more details to come to light the next few days on facebook or twitter.
Monday, May 26, 2014
https://www.youtube.com/watch?v=URSTc4ubqxE
Discovered this interesting good video which was fun and reminded me of my little self, but then was amazed to find out that the person that filmed the video and is the wife of the aspergers man was Holly Matthews of Byker Grove fame! Blast from the past I also found an interesting article on her tumblr about how he was diagnosed as an adult and the difficulties they had but came through and a happily married couple so pleased for them! :)
Well things on the life front have been a little quiet the last 2 weeks with the football season over, and getting into the tennis with the French Open on, and most likely will be my main interest alongside the England team at World Cup on sporting front over the next month or so well I always love tennis really, and apparently have somehow managed to convert Steve Valders son Bertie to loving womens tennis!
I am presently halfway through my ECDL IT Level 3 course, and currently planning an adventure to Manchester so I can visit the old Coronation Street set at the former Granada Studios, which may be in the next month depending and a chance to meet fans in the north of England, plus visit a piece of history before its knocked down, more news coming soon on that!
Monday, May 12, 2014
The main cheery highlight of the last week is possibly the Ball family dog the Jack Russell charmer Toby who celebrated turning 5 years old recently, and over the weekend whilst visiting my parents at Ball Manor HQ.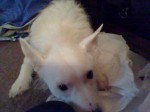 Toby was charming my sister Rose and her 3 school friends in the living room greeting them hugging and kissing them like a gentleman and charmed them enough that they were happy to let him join them in Roses bedroom! What happened next? when the girls are not looking he helps himself to a slice of pizza the girls were devouring, taking it with him downstairs as his trophy what a charming Jack Russell our Toby is, but we love him, but girls beware Toby knows how to get what he wants by his magic with the female sex!
Well an awful lot has happened since my last blog post, been through all the emotions with Brighton the last week seeing them sneak into the playoffs in style get outplayed by Derby County in the semi finals and now Oscar Garcia has resigned 2nd manager gone at the club in 12 months, what is going on?
The other not so great stuff includes the Oxfam Crawley shop where I occasionally help out was broken into on Thursday night and £300 of cash and goods was stolen, and the culprit left a broken window, resulted in the shop being closed for a day losing yet more money and also now having to invest in better security gear at the shop, some sick people in the world!
Finally was sad to hear the death of former British No.1 and WTA Top 50 star Elena Baltacha, Ukraine born but raised in England and Scotland due to her USSR international footballer Sergi coming to play football in the UK in late 80s! Elena became one of Britains best female players of recent years, I first of her as a teenager in the early 2000s when Ace tennis magazine tipped the then fresh faced 17 year old as a star of the future, and showed promise when she stunned WTA Top 10 star Amanda Coezter at Wimbledon in 2002 though it was a few years later that she cracked the WTA Top 100 eventually rising to her highest ranking of 49 becoming one of the leading girls along with the likes of Anne Keothavong and Katie O Brien in the revival of British womens tennis as they were first ones to crack top 100 since Sam Smith, Elena retired just at the end of last year and getting married with plans to focus running her tennis academy finding the next top Brtish tennis stars in Ipswich, then sadly liver cancer comes along and few months later she is gone but not forgotten! :( My thoughts are with her friends and family RIP Elena Baltacha!