Tuesday, May 08, 2007
Cheltenham VS Brighton at Whaddon Road
4 February 2006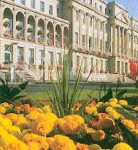 Venue: Whaddon Road, Cheltenham, Gloucestershire, England, United Kingdom
Mode of transport: Got the train thanks to the GBRA getting a train to Victoria, then the tube to Paddington, then a train stright to Swindon then changed for a train to Cheltenham Spa I went back pretty much the same way.
Pre match pub: The Cat and Fish near the ground, with Ashley Bradley and others there.
ISF members present at game: All members of the ISF were present with John Hewitt as a schoolboy Ashley Bradley as himself, and me experimenting being a lesbian with blonde hair and a fetching denim skirt.
Review of Cheltenham: Most locals seemed friendly and helpful, surprisingly the pub where I changed into my fancy dress outfit, the locals admired it and did not come out with the homophobic nonsense you would get else where. The town overall seemed a fine spa town similar to Tunbridge Wells 8/10
Review of Cheltenhams ground: Not bad for a little ground that has been done up a fair bit the last few years though not exactly Wembley 6/10
Review of food: Did not really try the food,
Price: Was cheaper than Withdean but a bit much for a game of not much meaning
Friendlyness of locals: The locals were very friendly indeed as mentioned above 8/10
Overall 8/10 Not a bad place for a away game with a few reasonable boozers, the locals were friendly and was a fine sunny day to enjoy some football and the end of season party.
Monday, April 02, 2007
Strike Factory Local Museum Challenge (SFLMC) 2007
"Coming to a local museum near you across Sussex!"
Chichester, Worthing, Horsham, Crawley, Hove, Brighton, Lewes, Eastbourne
Mission: I have been after a wacky challenge and I have finally got myself one that will be as challenging as Peter Crouch scoring for England. To visit 8 major Sussex town/ city museums in 2007, starting at Horsham Museum and then over the course of 2007 the seven other Sussex museums mentioned with the challenge finishing at Anne of Cleve's (You know Henry VIII's fourth ex missus) house in Lewes to add some flavour at the end. Having a laugh at each museum in addition to a snap shot of me outside each museum as proof I have visited that museum, at the same time gaining a valuable insight into the history of the respective town/ city. Anyones welcome to come along and witness Mr Ball make a bit of challenge history, dates are not set exactly for visits, but aiming to visit the following museums in the year 2007 AD
Horsham Museum, The Causeway, Horsham (Launch of SFLMC 2007)
Crawley Museum, Goff's House, Old Horsham Road, Crawley
Brighton Museum, Brighton
Hove Museum, New Church Road, Hove
Eastbourne Heritage Centre, Carlisle Road, Eastbourne
Worthing Museum, Chapel Road, Worthing
Chichester District Museum, Little London (Mini Crawley?), Chichester
Anne of Cleve's house, Southover High Street, Lewes (The Completion of SCLMC 2007)
Note: Above is in intended order though may change depending on circumstances.
For each museum I visit I intend to write a report on each one with pictures, interesting and wacky stuff at each museum and ratings of how exciting or boring that museum is. Get the low down on your local museum. Anyone is welcome to visit these museums along with me, to feature in pictures or like me be fascinated or bored to death of that museum. All in all should be a fun action packed challenge that will see me over the rest of the year, travel all over Sussex, visit 8 museums where half are in each of the two ceremonial county's of Sussex. Travel as far West as Chichester to Eastbourne in the East of the County, and North to Crawley. All in all get your popcorn and be prepared to enjoy so much that you will explode like a tomato explodes in a microwave, or be so bored you switch off your PC and get off to sleep.
All in all enjoy. Now off to start the challenge at Horsham Museum!
P.S For more information on how to attend these museums when I am present feel free to either Private Message me at North Stand Chat/ North Stand Polls/ or on my Myspace profile. Alternatively contact me at charlesball86@hotmail.com.
Copyright Strike Factory Productions 2007.
Saturday, December 02, 2006
ISF Members present: John Hewitt, Ashley Bradley, and Charles Ball were present.
Transport: Got to The Den Via Southern and First Capital trains from Crawley to South Bermondsey (via Three Bridges and London Bridge, I got back via London Bridge and Gatick Airport) to Ifield Station.
Pre match drinks: Just a bottle of Coke at Three Bridges Station as 1. Was a bit Skint 2. Due to ticket was barred from exiting London Bridge to the Market Porter pub
Ground: A nice ground with smart stands, shame they dont have corner stands. Stewards were a bit over the top.
Friendly ness of locals: A mix some nice some horrible, funniest moment was a Millwall fan picking on a fellow Millwall fan who he suspected was a Brighton fan the later saying " You saying I am Brighton, I am ****in Millwall mate, look at my Stone Island, Come up here and I will show you. I went up the wrong part of London Bridge and ended up walking up with a large bunch of chanting Millwall fans. I got constantly asked on the train from S.Bermondsey if I took it up the ****. In fairness not as bad as some people make out.
Place: Did not seem much but seemed a bit of a depressing place with caravans and temp houses though some houses did have nice Christmas Deceration
All in all a great night out, a great win and great noise by the Brighton fans surprising 900 traveled from Sussex or from work residences in London, to see the mighty Seagulls win.