Sunday, March 01, 2015
My work experience at the Citizens Advice Bureau has continued to go well, with me running the twitter pages of the Crawley CCVS, and currently tidying up Strike Towers with plans to revamp it after 5 years at current Strike Towers and had a bit of female help so can attract girls when I decide to look for lovely one, although until I get paid work deciding to firmly stay single. Plus I want to thank Colin Bryden-Pitt and George Thacker for a great Oxfam annual dinner at the Harvester in Crawley a few days ago, was fun even though I was a bit late. Sadly I wont be attending Audios final night tonight, though I visited the legendary club 2 weeks ago for the final time with the legendary Ben Miller (not the actor/ comedian the more famous Brighton legend one), was a nice mix of 90s style American house, and the usual electro goodness that has come out of that club since my first visit back in 2005. It has been a fave of mine down the years, with the likes of Simian Mobile Disco, Babyface, Cagedbaby etc, I have witness performed there, won't be another place like it.
While the Eastenders has come and gone and boy it was a great episode though a bit surprised they have brought Kathy Mitchell back from the dead, got away with it with Den Watts, wonder what next Pete Beale coming out of witness protection or Dee Bliss coming back to Neighbours to give Toadie a shock of his life ( to be fair the idea of her return is pretty popular with sections of the Neighbours fandom even though it might destroy the show, has to work out well and be well written.), but if you see a dead body in soap thats death and no coming back.
Finally I did manage to see one of the stars of last weeks Eastenders specials Jamie Lomas who played Jake Stone in the Flashback episode appeared in Dead Simple the play at Theatre Royal,
Saturday, February 14, 2015
So have left this a bit late, well been pretty busy with life recently gaining a new role at CCVS this time helping out with their social media like I do the Oxfam Crawley shop, plus been pretty busy helping out the folks at We Luv Eastenders fanpage prepare for the BBC One shows 30th anniversary,which will be screened next week and as an watcher of the show since 1994, I am looking forward to the occasion. Indeed last night saw legendary original villain Nick Cotton, bow out in style of an overdose of dodgy drugs given by Dot, and his fate decided by guest appearance of Jesus, in the very same room of the house where he commited his first vile act in the opening episode of Eastenders killing Reg Cox. The house is similarly just as dark in 2015 as the dreary flat Albert Square residents entered to discover Mr Cox's corpse on the sofa in 1985, I loved the black out at the end though shame there was no Nick's theme at the end, and unlike poor Reg he died with a loved one present well the only person to care until finding out full truth at the end, nice Karma for Mr N Cotton. But credit to veteran legends June Brown and John Altman pulling off those amazing final scenes and whilst Walford won't be mourning Nasty Nick's demise, sure me and plenty of other fans will miss John Altman and his recurring potrayal of Nicholas Charles Cotton. Gee plus got Neighbours 30th anniversary to look forward too next month, and the appearance of a certain ex Oaks fave girl into Emmerdale, so a bit into the soaps at the moment.
RIP Nick Cotton 1959-2015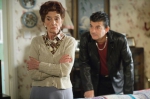 Friday, January 30, 2015
Today marked the end of an era at Crawley Open House, as one of the original members of staff who has been working hard for local people having housing or homeless issues since the place opened in 1995 is retiring today the legendary Sue Miles. Although she plans to keep busy in retirement still volunteering and looking after her husband. I first encountered her in late 2003 when just after I left home, living in a hostel scared and unsure about my future especially as 17 year old with mild autism living alone, I went to the Open House seeking help and first person I encountered was Sue, who calmed me down helped me out with getting to grips with living independently whilst still studying at college, and introduced me to other great people at the Open House, and on and off whenever I have had problems down the years whether financial or emotional etc Sue has been a massive help. It was an honour to attend her retirement party this afternoon, which saw a massive packed hall full of various people she has helped down the years, and even 3 members of the House Of Lords attended including Lord Bassam or Steve as he prefers to be called who fellow Albion fans need no introduction too, there is only one Sue Miles. :)
As for me things are going smoothly at the Crawley CVS getting used to how things work there, and looking forward to the Australian Open finals this weekend featuring Serena Williams Vs Maria Sharapova the battle of the experienced giants of womens tennis in recent years, and Britain's (or Scotland's depending on point of view) Andy playing against Novak Djokovic should be crackers of matches. Plus finally sad that it will be the end of an era of a fave haunt of Strike Factorys blogger and followers Audio Nightclub in Brighton over the last 10 years, and will certainly try and attend one more club night before it closes in late February.