Friday, January 30, 2015
Today marked the end of an era at Crawley Open House, as one of the original members of staff who has been working hard for local people having housing or homeless issues since the place opened in 1995 is retiring today the legendary Sue Miles. Although she plans to keep busy in retirement still volunteering and looking after her husband. I first encountered her in late 2003 when just after I left home, living in a hostel scared and unsure about my future especially as 17 year old with mild autism living alone, I went to the Open House seeking help and first person I encountered was Sue, who calmed me down helped me out with getting to grips with living independently whilst still studying at college, and introduced me to other great people at the Open House, and on and off whenever I have had problems down the years whether financial or emotional etc Sue has been a massive help. It was an honour to attend her retirement party this afternoon, which saw a massive packed hall full of various people she has helped down the years, and even 3 members of the House Of Lords attended including Lord Bassam or Steve as he prefers to be called who fellow Albion fans need no introduction too, there is only one Sue Miles. :)
As for me things are going smoothly at the Crawley CVS getting used to how things work there, and looking forward to the Australian Open finals this weekend featuring Serena Williams Vs Maria Sharapova the battle of the experienced giants of womens tennis in recent years, and Britain's (or Scotland's depending on point of view) Andy playing against Novak Djokovic should be crackers of matches. Plus finally sad that it will be the end of an era of a fave haunt of Strike Factorys blogger and followers Audio Nightclub in Brighton over the last 10 years, and will certainly try and attend one more club night before it closes in late February.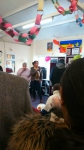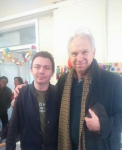 Thursday, January 15, 2015
So I have been settling into my new role volunteering at CCVS and have grown into the role so much that they are happy for me to volunteer more hours, which is great news. Will be carrying on at Oxfam as well, though might have to quit the Rewards Training course for the time being.
I travelled to Horsham at the start of the week to attend the North West Sussex Seagulls club meeting featuring Albion legend Adam Virgo, at first I went to the Horsham Superbowl venue, where the first NWSS meeting was held back in 2011 until noticing the venue was a bit quiet with not much football supporter activity it was only after contacting one of the chiefs of NWSS Mike Wilson via facebook I found out I got the venues mixed up and the actual venue was Horsham Bowling Club on the otherside of town. At first I considered getting a taxi to the venue being 1.5 miles away and unpredictable weather, but then ringing company up found out it would be a 20 minute wait before cab arrived, so seeing luckily that it was not raining and holding out I decided to walk instead from the town centre to the venue taking a bit longer than I thought, but luckily did not rain and made the venue albeit a bit late but then still was able to enjoy Adam Virgo storys of his days with the Albion which made Sky Ones classic show Dream Team look tame, and lower division English football in the early 2000s was more crazy world than I thought when I got into supporting Brighton around that time. Overall it was a great evening, and will be more careful not to get the venues mixed up again.
Finally Tennis Charles will be coming out when the Australian Open starts in a few days should be an interesting championship pretty interested to see how Aga Radwanska gets on with Martina Navratilova at her side can she repeat what the top male players have done last few years appointing former Grand Slam champions and gaining success, certainly will be a girl to watch along with Genie Bouchard. Plus helps this year Aussie Open finals don't clash with the FA Cup 4th Round (when Brighton will be playing Arsenal).
Wednesday, January 07, 2015
Firstly incidental that my first blog entry of 2015 is on a sad day people are tweeting #JeSuisCharlie after the tragic scenes in Paris thoughts and prayers with the victims of the shooting, and sad there are loons out there that can kill you just for things published in newspapers, magazines or blog.

My first blog entry of 2015 and would like to wish readers a Happy New Year whereever you are, yes I had a great Christmas though the New Year and my birthday after it were quiet affairs (save a trip to the Black Swan pub at Pease Pottage on New Years Day. Whilst I was not suscessful in gaining the assistant managers job at a charity shop, I have started volunteering as data entry/ receptionist man at the building that houses Citizens Advice Bureau (which I did a bit of work experience with when this blog started in 2005), and other help organisations, and has been a fun experience and have found the role a bit easier than I thought, and been invited to volunteer more hours, there though will resume helping out at Oxfam as well.

Finally, quite happy to hear one of my fave soap girls Gemma Atkinson has been cast in Emmerdale as Carly Hope, the former Hollyoaks and Casuality actress star continues to rise, will most certainly be watching when she appears.