Wednesday, August 05, 2015
So tomorrow yes I will be going for an interview for part time job with Trespass the Mountain and Winter clothing shop in Crawley. Hopefully it will go to plan and will be something that will give me experience, confidence etc.
Incidentally I visited Nyman's Gardens just outside the fine Sussex village of Handcross last week, for partly volunteering opportunities before the interview came up, as well as exploring the house and gardens. The gardens began when Ludwig Messel purchased the house and manor in 1890 and over 3 generations his family lived and continued to develop the house and gardens. The gardens have been opened to the public since the 1930s, though the main house was partly ruined by a fire in 1947 and 40 years later the Great Storm caused damage to the gardens but it has survived that and is still going strong under ownership of the National Trust.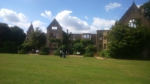 The house was quite impressive even if half of it is ruins whilst the other half is well preserved and Anne Messel (famous for being the mother of the Earl Of Snowdon the former husband of Princess Margaret), was resident until her death in 1992. It's certainly worth a visit and I don't rule out volunteering in some form.
Finally the new football season is upon us, for me and fellow Brighton supporters it starts on Friday evening at home to Nottingham Forest. There has been some excitement around the club the last week or so, and its not simply the 1-0 victory in a friendly against Seville on Saturday, its the return of Bobby Zamora that has got me and many other Albion fans overexcited. Whether he is suscessful or not in this 3rd stint at the club (initially on loan in 1999-2000 season before signing for the club long term and playing from 2000-03), he will always be a legend giving the club a boost after a bad few years with protests losing our old ground, He banged in a load of goals with some workhorses helping him and the club to two suscessive promotions and Championships in the Football League in the early 2000's before leaving to carve out a suscessful career in the Premier League playing for England etc. I look forward to taking my seat at the Amex on Frieday.
Wednesday, July 22, 2015
Well on Saturday I made the journey to Manchester staying there until Monday to sample the music scene (esp growing up with a fondness for Madchester pop music and the legend of the Hacienda nightclub) explore city sights and meeting with the odd friend up there. I booked a nice bargain hostel in the trendy and quirky Northern Quarter area of Manchester, with loads of retro/ vintage clothing shops, DJ/ Vinyl stores and a cafe that charges 50p a minute and can eat and drink anything you want.
So I got familiar with my roommates who were all female (one from Norway, the other from France were friendly and looked out for me along with the kind staff). After getting used to surroundings in Northern Quarter, I was invited along to a club night at a lovely bar called Hold Fast, close to my hostel, Inside Hold Fast it had board games, comic books and retro Sega Mega Drive. The DJ's performing at Hold Fast were called Meat Free, who performed a nice house/ disco mix that sounded like a cross between Hacienda and good night's at my old haunt Audio in Brighton. The ravers were a mix of hostel guests and locals who were very warm and friendly towards me and happily danced with me, one of the DJs came out and covered our faces in glitter, reminding me of a girl who was a bit enthusiastic about decorating my face and others with eyeliner at the bar Pressure Point in Brighton back in 2006. It was one of the best clubbing/ raving nights I have ever had at Hold Fast, ticking off that I have done an ace club night in Manchester at least once in my lifetime.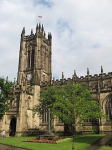 The rest of my time involved travelling around Manchester taking in the sights from Old Trafford, Mediacity, to museums and historic buildings in the City Centre like Manchester Cathedral. Plus meeting old and new friends. Overall a fun few days up there.
This weekend I will be off to Horsham to take in my first live cricket match watching Sussex take on Lancashire, and awaiting the football season, plus looking at doing some volunteering at local museums in Crawley and Horsham area to offer my vast local history knowledge.
Sunday, July 12, 2015
Very sad to hear the death of a popular teacher at my old school Mr Grahame Jenkins aka Rhino. He was a teacher at the school for many years until it closed in 2007, and was my tutor at one time. I encountered him on my first day at the school in 1993 when having issues about shoelaces. My greatest memory was as a 10 year old I went into class sure about the days date, not reliasing I was wrong. When people could not agree with me being at times a stubborn autis tic lad I went to the room next door to have a word with Mr Jenkins about the issue that people around me were wrong about the date. After 5 minutes of debating and showing me newspapers as I thought it was one of his trademark jokes and pranks he played on pupils, I finally came to conclusion I was wrong,and years later we talked and laughed about the incident the last time I saw him at Abbotsford School reunion event a few years ago. As mentioned he was fun prankster, very informative friendly and helpful teacher, that loved his rugby. RIP Mr Jenkins. :(
Well before the sad news the blog entry was mostly going to be about The Autistic Gardner on Channel 4, a show I have enjoyed watching recently, with autistic award winning garden designer Alan Gardner but will discuss it in next blog entry.
Recently been enjoying the tennis at Wimbledon (even the unusual switch of Jon Inverdale from presenter to commentator.) England's great start in the Ashes. Will be spending next weekend in Manchester meeting the odd friend up there exploring music scene there and watching Davis Cup tennis somewhere, if you see me say hi.