Sunday, July 12, 2015
Very sad to hear the death of a popular teacher at my old school Mr Grahame Jenkins aka Rhino. He was a teacher at the school for many years until it closed in 2007, and was my tutor at one time. I encountered him on my first day at the school in 1993 when having issues about shoelaces. My greatest memory was as a 10 year old I went into class sure about the days date, not reliasing I was wrong. When people could not agree with me being at times a stubborn autis tic lad I went to the room next door to have a word with Mr Jenkins about the issue that people around me were wrong about the date. After 5 minutes of debating and showing me newspapers as I thought it was one of his trademark jokes and pranks he played on pupils, I finally came to conclusion I was wrong,and years later we talked and laughed about the incident the last time I saw him at Abbotsford School reunion event a few years ago. As mentioned he was fun prankster, very informative friendly and helpful teacher, that loved his rugby. RIP Mr Jenkins. :(
Well before the sad news the blog entry was mostly going to be about The Autistic Gardner on Channel 4, a show I have enjoyed watching recently, with autistic award winning garden designer Alan Gardner but will discuss it in next blog entry.
Recently been enjoying the tennis at Wimbledon (even the unusual switch of Jon Inverdale from presenter to commentator.) England's great start in the Ashes. Will be spending next weekend in Manchester meeting the odd friend up there exploring music scene there and watching Davis Cup tennis somewhere, if you see me say hi.
Saturday, July 04, 2015
Greetings been a bit quiet on the blogging front recently due to watching tennis and concerns about ESA review which has been sorted. In fact my next blog entry was going to be about my day in Eastbourne watching the tennis but due to issues getting photos from my phone onto blog that has been postponed and will up in the next 48 hours when I can access decent computer.
But this entry will mostly be non tennis related. I was sad to hear about the Tunisian death shootings especially as one couple found dead came from Crawley. Thoughts and prayers with the victims family. :( Apart from my usual volunteering and Eastbourne, I attended a theatre show in Covent Garden with Terri Dwyer (Hollyoaks and presenting home improvement shows), 2 mini comedy-dramas with one called Revlon Girl set in Aberfan, Wales a few years after the 1966 disaster that began modern health and safety laws in the UK (I learned about this tragedy via Shaw Trust employment training last year). Both Great shows, however afterwards I hung about in the bar of this small theatre, minding my own business with little drink before heading off and as I exited a few individuals commented 'oh that random stranger is leaving' 'oh good'. Maybe not cleverest idea for mild autistic guy like me to attend small theatre shows alone in future better to go with someone I know personally so easier to introduce people to me and not freeze up with shyness.
I will be spending a weekend in Manchester a week after Wimbledon exploring city and meeting a few individuals in surrounding area. So any suggestions of places I should check out esp places relating to Madchester pop scene or decent electro dance music, let me know.
Monday, June 22, 2015
So its been a little bit quiet on this blog recently. Well have mostly been busy at CCVS helping set up the ebay, and saving money for tennis adventures esp tomorrows trip to Eastbourne where the likes of Caroline Wozniacki and Eugenie Bouchard are playing at the WTA event there. Will have to be careful of an old friend Mr Roger Russell, a nice friendly guy but sadly about 5-10 years ago was brainwashed by some witches to cheer all things Australian despite being English born and bred and having no ties to Australia whilst I am in Eastbourne. Spare a thought for the poor guy and his friends and family having to live with this curse he is under. But otherwise we have a fine time in Eastbourne, with a few other individuals every year watching tennis and chatting about stuff.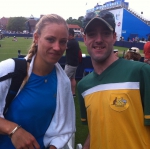 Plus been visiting a few rural pubs in villages near Crawley like The Half Moon in Balcombe that was voted the best pub in Sussex recently, with friendly regulars watching the French Open tennis and the landlady was keen for me to help out with their pub quizs esp sports questions with my sports knowledge and I promise to return soon, maybe being my new local now the Brighton and Hove Albion season ticket travel zone has extended to Balcombe, so could be a future pre match pub venue next season.
In the next month got plans to attend some theatre shows in London on Friday, and possible adventures to Wimbledon, and Sussex CCC, and finally planning a weekend in Manchester for mid to late July to explore the city and catch up with a few contacts/ friends up north, more details to come soon.