Wednesday, August 05, 2015
5th August 2015
So tomorrow yes I will be going for an interview for part time job with Trespass the Mountain and Winter clothing shop in Crawley. Hopefully it will go to plan and will be something that will give me experience, confidence etc.
Incidentally I visited Nyman's Gardens just outside the fine Sussex village of Handcross last week, for partly volunteering opportunities before the interview came up, as well as exploring the house and gardens. The gardens began when Ludwig Messel purchased the house and manor in 1890 and over 3 generations his family lived and continued to develop the house and gardens. The gardens have been opened to the public since the 1930s, though the main house was partly ruined by a fire in 1947 and 40 years later the Great Storm caused damage to the gardens but it has survived that and is still going strong under ownership of the National Trust.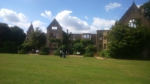 The house was quite impressive even if half of it is ruins whilst the other half is well preserved and Anne Messel (famous for being the mother of the Earl Of Snowdon the former husband of Princess Margaret), was resident until her death in 1992. It's certainly worth a visit and I don't rule out volunteering in some form.
Finally the new football season is upon us, for me and fellow Brighton supporters it starts on Friday evening at home to Nottingham Forest. There has been some excitement around the club the last week or so, and its not simply the 1-0 victory in a friendly against Seville on Saturday, its the return of Bobby Zamora that has got me and many other Albion fans overexcited. Whether he is suscessful or not in this 3rd stint at the club (initially on loan in 1999-2000 season before signing for the club long term and playing from 2000-03), he will always be a legend giving the club a boost after a bad few years with protests losing our old ground, He banged in a load of goals with some workhorses helping him and the club to two suscessive promotions and Championships in the Football League in the early 2000's before leaving to carve out a suscessful career in the Premier League playing for England etc. I look forward to taking my seat at the Amex on Frieday.