Tuesday, May 24, 2016
So in the last month, I have witnessed the Albion go from joy to narrowly missing out on promotion but still proud of the teams season. Another Bobby Beale horror attack, on EastEnders and getting involved in local art club activities.
The Art Shake clubs home venue the Blazin Lounge café in Crawley will be hosting a 90s computer game every Tuesday (yes it was my idea. lol), so means I will get to meet some new people and play some classic games etc.
I will be absent from room stewarding at Nymans house the next 2 weeks due to work being completed renovating the art exhibition floor and my natural habitat area telling visitors the history of the place being used for storage briefly. So I will return there in early June.
So the football season is over and now looking forward to the tennis at Roland Garros and Wimbledon as well as England at Euro 2016 with the St Georges flag flying outside Strike Towers as tradition during tournament. Money reasons may restrict my tennis spectating activities this year though.
Finally one thing that has helped for some reason helping get over stress and anxiety, dolphins. lol More to come in next blog entry.
Wednesday, April 13, 2016
So in the last 2 weeks, I have resumed volunteering activities at Nymans, though there is a fair bit of work going on in the house apart from the main areas visitors visit, it has been great being back with volunteers warmly welcoming me back, and showing people around the place again.
I have enjoyed the art club organised by Vanessa Cumper and was honoured when my suggestion that its name should be Artshake was approved by other members, even though been a bit shy and did do some unusual art in tribute to Neighbours Doug Willis that passed away on show recently, it has been fun coming along to the lovely Blazan Lounge café and hopefully will be creating more masterpieces soon.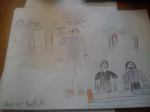 So aside from the Neighbours addiction due to hotel explosion, and an interesting drinking adventure after the Brighton Burnley match with the GDC gang around the wet streets of Brighton. I have bought a new improved laptop recently and have got some plans to turn to vlogging soon, although I want to still keep blogging, watch this space people.
Wednesday, March 30, 2016
I have been feeling much better, with medication properly kicking in really taking out stress and anxiety well and returning back to normal and starting to come out of my shell and getting out and about again. I had my first night out in a while on Thursday in Hove enjoying DJ Russell Small (of Phats & Small and Freemasons fame!) playing house classics from 80s 90s and 00s, old raver Charles is back.
There has been a mix of tragic events recently (Brussels, Lahore and Baghdad football stadium), as well as the death of a childhood idol in Phil Daniels, which got me a bit down Though there has been positives as well, like England doing the Grand Slam in the Rugby Union, the Three Lions victory in Berlin against World Champions Germany, and Brighton and Hove Albion continuing their strong promotion push, and Phil Mitchells drunken rampage in EastEnders last night.
Plus I have plans to return to volunteering at Nyman's this weekend after missing first few weeks focusing on taking things easy, in addition to slowly resuming looking out for work at reasonable pace and the usual volunteering roles. plus with Spring here looking forward to getting out and about more exploring countryside and coastal areas provided the horrible rain clears up, and will write some entrys on places I visit hopefully.
Finally a special mention to Flossy and Jim great bloggers and vloggers, inspiring me maybe to turn to vlogging soon after being a blogger for several years. Anyway have a good week people.