Wednesday, October 14, 2015
14th October 2015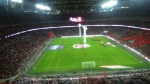 In the last few weeks I have seen Brighton remain top of the league and England crash out of the Rugby World Cup, however last Friday I made my international football spectating debut. Mark Raven an Albion supporter who regularly attends England games home and away had a spare ticket, and its been known in the last year I have wanted to make Wembley debut watching the 3 Lions. With England guaranteed the group winners and finals place at Euro 2016 assured whilst Estonia were just playing for pride. I decided to take up this ticket offer. Travelling by train to Wembley Central, then meeting Mark Raven in the dark backyard of the Sports Bar to collect tickets.
Wembley is a beautiful amazing gigantic stadium, with a leisure park next to it that seems to be endlessly expanding with various commercial advertisements that sadly cover up posters of England players outside the Stadium. The walk up Wembley Way was magical and got me wishing I went to this place years earlier before it was redeveloped with the infamous Wembley Towers in full view. I discussed with Mark as we walked to the Stadium about buildings that used to surround the Old Wembley that were used for the British Empire Exhibition of 1924 that were planned to be demolished like the Old Wembley Stadium after exhibition ended but were retained and used for other purposes however by 2000 the few surviving former exhibition buildings had been out of use for several years and like Old Wembley were demolished. We were in the top tier and after finding the crowded escalators a bit much due to Asperger's decided to use the less busy manual staircase instead and helped exercise my legs. We arrived at the stadium around the time Rooney received a pre match presentation, and watched the game and Theo Walcott ended up being the first international goal I saw. Whilst it was just a routine dead rubber for the England fans around me it was a fun debut experience and will try and pop along to another England game soon.
I am pretty busy next week with a Abbotsford School reunion next Friday that I am looking forward too that will be fun and a bit emotional with the passing of legendary teacher Grahame Jenkins earlier this year, and will be nice to meet old schoolmates. Also looking forward to attending a musical with a friend called Dirty Rotten Scoundrels in Wimbledon starring old Oaks fave Carley Stenson. Plus will be hopefully doing a bit of clubbing somewhere in Brighton this weekend or next weekend.