Saturday, May 30, 2015
So 10 years ago today this blog was born with the first blog entry ending with infamous line 'Welcome To My World' Meaning a few days after a slightly stressful wisdom tooth extraction I am now a 'veteran blogger'. I am not old yet just experceived.
So what drove me to run a blog that's now 10 years old. Well back in 2005 social media was firmly in its infantcy with Facebook being small and used by certain US college students and MySpace was the sole giant then. I was a 19 year old mildly autistic skinny lad living at a sort of youth hostel called Crawley Foyer (original Strike Towers), feeling a bit down due to lack of luck finding work, low funds and finding it difficult meating new people, I wanted another way of expressing my thoughts and views outside MySpace and football forums. I was very influenced by the then rising trend of wonderful 'minor celebrity' websites based in my old school town Burgess Hill like Mccarthy Industries, Burgess Hill Uncovered, and Mierosoft, all great websites but only Burgess Hill Uncovered run by Peter Chapman remains.
Then on a memorable evening with Andy Rumble, and other fellow young single blokes the former Prodigal pub in Brighton whilst watching Usa Vs England friendly and chatting to girls that liked tennis, I thought up a idea. I decided to experiment in the emerging market of blogging and set up a blog, giving people an insight into my life, write funny and thoughtful entries and so on. It was a bit of a risky business then as apart from Perez Hilton, blogging was not really fashionable like it is now with not really celebrities like actors sports stars etc doing blogs as did not want to maybe look like 'geeks' like me.
In its early days the blog was a bit of a mix bag, with it being updated almost everyday, a little bit too much, making up the odd story (eg the magic custard at Strike Towers forcing me into hiding was cover for me spending night with girl in Eastbourne on a sort of date but was then stranded and had to spend night sleeping on her sofa watching various movies and omnibus of Hollyoaks). There were some interesting early comments in response to the blogs from the likes of Boo Sticks (at first thought to be Andy Rumble but revealed to be co worker Abi Jones), Biscuit and the guys at alternative football forum North Stand Polls. But over time I decided to cut to a blog entry once or twice a fortnight about my adventures in life and quest to find girl. It has helped me express myself gain confidence coming out of shy shell to make good friends, and encounter unlikely fans of the blog or myself like Amy Willerton and Greg Rusedski and certain actors and singers that follow me on Twitter. Expressing my interests from history, sport to Neighbours and other soap operas.
There has been times when this blog has had bit of a break a brief period under different name which did not go down well with readers so went back to Strike Factory and personal difficulties, but have overcome them and despite increased social media sites like Facebook, Twitter, blogs really seem fashionable now with many famous people with blogs.
Well thanks for reading if you are not put off by some stuff I post, I would post this stuff regardless if one person or many reasons, it's been a joy doing this blog and will just keep going with Strike Factory.
Tuesday, May 19, 2015
After the slight business and stress of last week, I decided to take a trip down the coast visiting the old Sussex Cinque Port Seaford and nearby Seven Sisters, plus visiting the sister Oxfam shop to the one in Crawley as under same regional area. Last night I attended play The Ghost Train written by Arnold Ridley at The Capitol Theatre in Horsham. A show featuring Jeffrey ) Corinne Wicks (Emmerdale, Doctors), Sophie Powles (Emmerdale), Tom Butcher (the Bill, Doctors) David Janson (Get Some In!, Allo Allo!, Keeping up Appearances), and Judy Buxton (General Hospital, On The Up).
The Ghost Train is set in 1920s and about 2 couples, a spinster and a buffon bloke being stranded at a rural railway station in Cornwall for the night after missing a connection and having a stationmaster tell them stories about the stations past and some ghost stories linked that freak them out but are they really true? It is a good comedy thriller that takes place entirely in the waiting room of the station. Its based on a true story of Arnold Ridley who is famous for Dads Army being stranded at Mangotsfield Station, something we can all relate to especially my experience of being stuck at a certain rural railway station down the road from Horsham.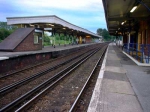 In 2003 during my brief adventure in youth politics after a weekend at a West Sussex Youth Parliament meeting at Lodge Hill on outskirts of Pulborough, me, Dave Smith and one or two other people (whose names I can't recall) were given a lift to Pulborough Station which serves a rural commuter village. Only problem was it was a Sunday and chilly evening, and it would be an hour before next train would arrive, so we were a bit stranded. The waiting rooms were locked, the main facilities was an interesting bookshelf in the ticket office, and keeping warm in the subway linking the platforms. It was a station with a curious Victorian charm that had 3 platforms however due to Beeching cuts in the 1960's one of the rail lines was taken out which mean't only 2 platforms are now used with an empty trackbed serving the third one. We mostly huddled together to keep warm chatted about various random stuff and when we got bored, Dave decided to have an adventure up and down the trackbed with no rail line thinking it would be harmless and we were the only humans in the station. However a minute into Mr Smiths adventure on the 'Ghost Line' suddenly out of the blue at the Signal building just outside the station a man emerged and promptly told Dave off that he was breaching health and safety, acting like a train would come even it was clear no train had come up this part of the station since about 1965 with no railway lines. Is there a 'Ghost Train' that uses this deserted platform I wonder hence warning Dave off the derelict trackbed?
Wednesday, May 13, 2015
So in the last week there has been a general election here in the UK, seen some change in government, and also the Crawley CVS where I volunteer will be renamed on 1st June 2015 to Mike, in a similar way to TV Channel Dave and drugs service Frank, partly in tribute to the great manager Michael Simpson. Only joking it will become Volunteer Crawley, next month and enjoying the experience.
I am feeling much brighter than last week after my post mentioning I was having a bit of a difficult week and keeping positive, with plans to see Ghost Train next week at the Capitol Theatre in Horsham, with ex Emmerdale stars Sophie Powle, Corinne Wicks, former The Bill star Tom Butcher and David Janson. Also the 10th anniversary of this blog gets closer with plans going ahead of how best to mark the anniversary, with a few people keen on getting involved.
Finally giving tennis blog Smash Gazette a go, helping Simon Cardy out, and we could do with more contributers so if you like tennis and want to write the odd entry get in touch with me or Simon Cardy on Facebook or twitter.