Tuesday, April 28, 2015
So in the last week or so we have had yet another St Georges Day or Shakespeares birth/death day (It is believed that its possible he not have been born on the 23rd April though he certainly died on the day), and also ANZAC Day with the start of the 100th anniversary of the Battle Of Gallipoli, where many British, Australian and New Zealander soldiers lost their lives. It also has a link with my family as my brother Stephen was born on 25th April, and its become annual tradition for him to receive ANZAC biscuits on his birthday.
So this time next month (30th May 2015), will be the 10th anniversary of this blog, and I recently got reminded of a night out in Brighton just 2 days before this blog was born with Andy Rumble and his friends going on a pub crawl, seeing USA Vs England and chatting up girls that liked a bit of tennis at pub formerly known as The Prodigal, and was one of the influences that led to this blog being born. So there are plans to recreate that crazy night out next month to mark 10 years of Strike Factory, at a venue yet to be decided but most likely will be various venues in Crawley and Brighton, more details to come soon.
I will be also attending #Insomnia55 in Coventry in August a games convention, and possible I will bump into the We Got Game duo of Matt and Darren, who I had the pleasure of meeting, when they were filming a project in Greenwich last year and I came along to assist as spectator and give my usual random knowledge of wisdom and where Amy Willerton got the word 'tubby station' from me.
Finally will be getting out and about in parks and maybe a trip to Seaford so if you see me, give me a wave. :)
For my brother Stephen sorry I forgot the ANZAC biscuits but here is the flags of Australia and New Zealand.
Tuesday, April 21, 2015
On Saturday I traveled up to Wigan to watch the Albion play (my first Albion away match since seeing them beat Portsmouth at Fratton Park in 2011 though later that season I also traveled to Upton Park to watch Albion play FA Youth Cup match), but seeing as I arrived in Wigan at 9.25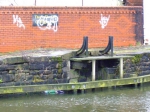 am (originally there was a plan to play some tennis with a Wigan supporting friend, but work came up for him, so Plan B) I decided to get a train down to Manchester for the morning, seeing the sights of this fine city and to visit the National Football Museum.
The museum is certainly worth a visit if you are a casual or diehard football fan, although based in Manchester and thinking it would be full of Man U and Man City stuff though you can't beat an Eric Cantona art mural, I was pleasantly surprised by the amount of Albion stuff in the museum, from the FA Cup final shirt, to stuff about BHAFC during World War I. Indeed the Footballers in World War I exhibition on the top floor was certainly a highlight esp discussing about football amongest soldiers in the trenches, and that apparently the infamous Christmas Day 1914 football match truce is a bit of a myth, though there was occasions that English and German soldiers played football against each other whilst there was fighting elsewhere on the Franco-German borders.
After getting some lunch I boarded a train from Manchester Victoria (a 19th century station in the final stages of getting refurbished with a fine map of the Yorkshire and Lancashire Railways in 1900), I traveled to Wigan Wallgate, and from there walked in the sunshine to the DW Stadium about a mile away. Have to say the football was pretty forgettable, and felt a waste of a journey esp as not exactly the richest person about Albion boys let me down and hope they bounce back next week or results go our way (at the time of writing Brighton are not virtually or mathematically safe). After the football, and a bit of booze at the pubs, with the gang, and a little selfie. We got the train back down to Euston, though I had to get a slightly later one than Scott McCarthy, Mark Potter and co, and had to change at Crewe to avoid being on train that would virtually stop at every West Midland station before arriving at Euston though about an hour later than the rest but had a bit of a knees up at Bree Louise pub, before jumping on the Drunklink service from St Pancras International back to Three Bridges and ensuring Mark Raven got home safe and sound.
Would like to thank Garys Gang for helping me set up Soap Babes facebook page, which I recommend liking if you like ladies of soap opera the link is at left hand side of the screen, and finally also thank you to Carley Stenson, a lady I have mentioned about in the past having seen a few of her shows on TV and in theatre, for the retweet about me welcoming her to the blogging community with her new blog about her love for animals and acknowledging Strike Factortys upcoming 10th anniversary next month. Always knew some of the ex Hollyoaks cast gang were secret readers/ fans of this blog.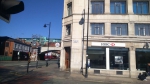 Tuesday, April 14, 2015
The weather is lovely outside, and makes me want the football season to end as soon as possible so can enjoy the cricket and the tennis when the grass court season comes to England as soon as possible. To be honest have been a little bit quiet the last 2 weeks keeping busy with work experience and undertaking an accounting course for non accountants, adding that to my list of various skills that including blogging, office assistant/ admin, shop assistant, sportsman, historian etc just fancy training as an actor (though unlikely I will be professional.).
So the next week I will be waiting for news on my receptionist application at Rewards Training, travelling to Wigan to watch Brighton and Hove Albion play there (my first away Albion match since the glorious win at Pompey in August 2011), possibly stopping off at Manchester on the way and maybe running the risk of being chased by some certain lovely female stalkers up there. Other than that will be cautious with funds due to annoying mess up of phone bills by 3, enjoy the sun people. :)