Monday, June 22, 2015
So its been a little bit quiet on this blog recently. Well have mostly been busy at CCVS helping set up the ebay, and saving money for tennis adventures esp tomorrows trip to Eastbourne where the likes of Caroline Wozniacki and Eugenie Bouchard are playing at the WTA event there. Will have to be careful of an old friend Mr Roger Russell, a nice friendly guy but sadly about 5-10 years ago was brainwashed by some witches to cheer all things Australian despite being English born and bred and having no ties to Australia whilst I am in Eastbourne. Spare a thought for the poor guy and his friends and family having to live with this curse he is under. But otherwise we have a fine time in Eastbourne, with a few other individuals every year watching tennis and chatting about stuff.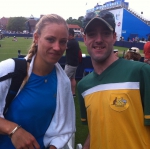 Plus been visiting a few rural pubs in villages near Crawley like The Half Moon in Balcombe that was voted the best pub in Sussex recently, with friendly regulars watching the French Open tennis and the landlady was keen for me to help out with their pub quizs esp sports questions with my sports knowledge and I promise to return soon, maybe being my new local now the Brighton and Hove Albion season ticket travel zone has extended to Balcombe, so could be a future pre match pub venue next season.
In the next month got plans to attend some theatre shows in London on Friday, and possible adventures to Wimbledon, and Sussex CCC, and finally planning a weekend in Manchester for mid to late July to explore the city and catch up with a few contacts/ friends up north, more details to come soon.
Friday, June 19, 2015
Recently I suggested to Ben Nicholas (played Scott 'Stingray' Timmins in Neighbours) on twitter that there should be another youtube spinoff of Neighbours involving the character of Stingray. He has asked me to come up with a script or something like that. I am not an expert but will try to give it a go. I am thinking of a sort of mini series like Gogglebox but with the ghost of Stingray observing and commenting on past or recent events in Neighbours storylines.
Eg (Stingray watches Paul Robinson meeting his lost daughter Amy,)
Stingray: Oh drongo, Paul don't act like your knickers in a twist, this is daughter you have not met in 20 years.
Any other ideas? P.S looking forward to Mr Nicholas film Footballer Wants A Wife which will star numerous ex Neighbour stars.
Tuesday, June 09, 2015
I celebrated my blogs 10th anniversary with a few drinks around pubs in Burgess Hill on Saturday 30th May, with one survivor of that infamous Brighton pub crawl that led to blogs creation Andy Rumble. Also attending with us were young Bobby Rumble son of Andy and Scott McCarthy, cheers guys it was a great aftern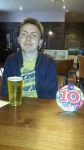 oon. Sadly my drivers licence being missing mean't I could not go out in Brighton later on. Plus loved this badge (pictured to the left) to celebrate the 10 years. Great to feel like a 10 year old again. lol
Other than that been mostly addicted to the French Open tennis the last week or so, as well as the usual business at Crawley CVS, and receiving an award yesterday at Tilgate Park for my loyal volunteering for the organisation since January this year, thank you it has been a pleasure and fun working with the people there and gaining experience.
So that is all you need to know for this week.