Tuesday, May 19, 2015
19 May 2015
After the slight business and stress of last week, I decided to take a trip down the coast visiting the old Sussex Cinque Port Seaford and nearby Seven Sisters, plus visiting the sister Oxfam shop to the one in Crawley as under same regional area. Last night I attended play The Ghost Train written by Arnold Ridley at The Capitol Theatre in Horsham. A show featuring Jeffrey ) Corinne Wicks (Emmerdale, Doctors), Sophie Powles (Emmerdale), Tom Butcher (the Bill, Doctors) David Janson (Get Some In!, Allo Allo!, Keeping up Appearances), and Judy Buxton (General Hospital, On The Up).
The Ghost Train is set in 1920s and about 2 couples, a spinster and a buffon bloke being stranded at a rural railway station in Cornwall for the night after missing a connection and having a stationmaster tell them stories about the stations past and some ghost stories linked that freak them out but are they really true? It is a good comedy thriller that takes place entirely in the waiting room of the station. Its based on a true story of Arnold Ridley who is famous for Dads Army being stranded at Mangotsfield Station, something we can all relate to especially my experience of being stuck at a certain rural railway station down the road from Horsham.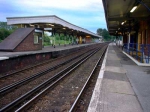 In 2003 during my brief adventure in youth politics after a weekend at a West Sussex Youth Parliament meeting at Lodge Hill on outskirts of Pulborough, me, Dave Smith and one or two other people (whose names I can't recall) were given a lift to Pulborough Station which serves a rural commuter village. Only problem was it was a Sunday and chilly evening, and it would be an hour before next train would arrive, so we were a bit stranded. The waiting rooms were locked, the main facilities was an interesting bookshelf in the ticket office, and keeping warm in the subway linking the platforms. It was a station with a curious Victorian charm that had 3 platforms however due to Beeching cuts in the 1960's one of the rail lines was taken out which mean't only 2 platforms are now used with an empty trackbed serving the third one. We mostly huddled together to keep warm chatted about various random stuff and when we got bored, Dave decided to have an adventure up and down the trackbed with no rail line thinking it would be harmless and we were the only humans in the station. However a minute into Mr Smiths adventure on the 'Ghost Line' suddenly out of the blue at the Signal building just outside the station a man emerged and promptly told Dave off that he was breaching health and safety, acting like a train would come even it was clear no train had come up this part of the station since about 1965 with no railway lines. Is there a 'Ghost Train' that uses this deserted platform I wonder hence warning Dave off the derelict trackbed?