Tuesday, May 05, 2015
Long live Princess Charlie and also recalling one from the past
We at Strike Towers are happy to hear of the birth of Princess Charlotte Elizabeth Diana, daughter of Prince William Duke of Cambridge and Catherine Duchess of Cambridge, and it got me thinking of one of her distant ancestors also Princess Charlie, called Princess Charlotte Augusta of Wales (Princess CEDs first cousin seven times removed).
Princess Charlotte Augusta was in the time of her short life the only legitimate granddaughter of the reigning King George III (Plus was a Capricorn who like had misfortune to celebrate birthday in early January). She was a result of the short lived arranged marriage of Prince George of Wales (later King George IV), and his wife Caroline of Brunswick, who apparently disliked each other so much that only had sexual intercourse once that resulted in Charlottes birth, which means her existence was a bit of a miracle. Her parents separated after her birth and she saw little of her mother Caroline growing up as she was blocked from the Royal Estates in the UK, and also in the care of servants and governesses saw little of her father who was married illegally to his mistress Maria Fitzherbert and had other women in his life whilst having fun at his home the Royal Pavilion in Brighton, which meant the Prince Regent was not a popular figure to take over from his father George III who was deemed mad, so Princess Charlotte Augusta was seen as a ray of hope for the Royal Family and the British Empire as a future Queen Of Great Britain.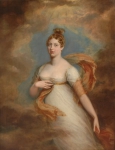 As an adult she married Prince Leopold of Saxe-Coburg-Saalfield, despite her father pressuring her to marry a Dutch prince that would go on to be King William of the Netherlands, the marriage seemed a perfect match, and she became pregnant. However tragedy struck when on 6th November 1817, she died giving birth to a stillborn son. It left the nation in shock and deeply mourning similar to the death of Diana in 1997, her former suggested partner Prince George of Orange although married to another lady wept with grief and his wife ordered the ladies of their court into mourning.
Most effected by her death was her heartbroken husband Leopold who took some time to get over the death of his beloved Charlotte and stillborn son, however he remarried and became the first King Of the newly formed nation of Belgium in 1831. Meanwhile the Royal family was in a serious crisis, as Prince George had no other legitimate children and his brothers were mostly middle aged single and had no children of their own. Eventually the Royal British and Hanoverian siblings scoured Europe to find ideal spouses to bear children that would the heirs to the throne of Great Britain, eventually it was Prince Edward Of Kent who succeeded and 2 years later his newly married wife Victoria gave birth to Princess Alexandrina Victoria of Kent, who in 1837 became Queen Victoria of Great Britain.
Lest we forget Princess Charlotte Augusta of Wales