Wednesday, November 26, 2014
So it seems the good people at Fremantle Australia are pulling out all the stops to make the 30th anniversary special of Neighbours a great occasion next year and to try and rival the great 20th anniversary celebration episodes of 2005, whilst I am excited about Harold Bishop returning to Ramsay Street etc, I am keen to know which of my past fave girls in the show are returning and the first one to be announced is the singer/ actress Delta Goodrem who played Nina Tucker between 2002 and 2004 although took a year out battling Hogdkins Lymphona, is the first to be announced, who was a lovely blonde girl who post Neighbours has focused mostly on singing and although initally suscessful in UK pop charts, most of her recent suscess has mostly been within Australia, but either way nice to see her return to UK TV screens soon, almost as exciting as the signing of Darren Bent for Brighton and Hove Albion.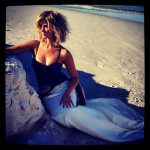 The people at Strike Towers however are hoping more that some of the girls that featured in the Strike Factory 10 Fave soap girls published earlier this year will also make returns like Pippa Black (Elle), Stephanie McIntosh (Sky) and maybe Margot Robbie (Donna), but with her fame in Hollywood maybe she see Neighbours the same way as Kylie Minogue. :(
Since my last post, been a bit boring just getting on with my courses with Avanta (which should be completed by the end of next week), and getting on with the ECDL Level 3 training, plus with inspiration from fellow aspie George Thacker at Oxfam Crawley have applied for a mystery job with St Catherines Hospice where I offered my volunteering services for 3 years, leaving last christmas, more will be revealed in future.
For those wandering who was on my 10 fave soap girls list earlier this year, here is the links if you want to enjoy again or read for the first time.
http://strikefactory.blogspirit.com/archive/2014/03/04/10-fave-soap-girl-faves-from-down-the-years.html
http://strikefactory.blogspirit.com/archive/2014/03/07/10-soap-girl-faves-from-down-the-years-part-2-2997019.html
Roger Russell is English (29 years old today.)
Monday, November 17, 2014
Mr Ball has been occupied, with a fair bit of positive stuff since my last blog post about the end of employment at Gate Gourmet, firstly I attended Lewes Bonfire Night, which was a fine night esp the words of wisdom of Ricardo Wiggett who traveled from Cardiff for his debut spectator appearance at the event. Only disappointment was the Alex Salmond effigy not being paraded around the streets of the East Sussex county town (although still burned afterwards).
Plus finally got to meet the newest addition of the Ball family my nephew Lucas 2 days after Lewes. The son of brother Stephen and his partner Lorna, Lucas is about 8 weeks old now, and also got to meet his aunt Rose and grandparents. Could share a photo, but due to my brother wanting privacy and no stangers seeing I respect that and can't show it.
Last Friday I attended a performance of Calamity Jane at the Hawth Theatre, just a 5 minute from Strike Towers. Had to go when I heard that the lovely Blackpool lass Jodie Prenger would be in the title role (who I previously saw in Spamalot at Theatre Royal, Brighton 2011), and Tom Lister (aka Carl King from Emmerdale) was also performing. It was an enjoyable performance, and can't believe its 2 years since Carl King was killed off, I did feel tempted to shout the infamous line 'I'm indestructible' but held back eventually. To the group of individuals at the bar that had a stranger kindly donate them 10p for their £20.10p drinks bill before the start of the performance it was me, and hope you had a great night overall, no need to return the favor.
Finally was honored to get follows on twitter from 2 of the co creators of the legendary ITV night time show Quizmania, Chuck Thomas and Simone Thurogood (who is also one of the presenters of the Latest Brighton channel these days.) got fond memories of watching the show with cult viewing presenting from Greg Scott and Debbie King during the infant days of this blog at the old Strike Tower HQs in 2006. I am starting 2 courses, one a puzzling Pre Employment Training course, though lovely tutor Sangeeta is doing her best to see us though it, and returning to Rewards Training to start a Power Point course, and I will be not be retiring this blog and will carry it on well after the 10th anniversary next year, as long as friends, visitors and fans are still happy to read this blog.
Monday, November 03, 2014
Well sadly things did not quite work out at Gate Gourmet like I hoped, I tried my best but initial job I did I was judged to be too slow and then they suggested an alternative job within the firm that was not suitable for me and I found too stressful especially as I have aspergers, so it mean't me and the firm parted ways. A shame but was a good experience, and learned a fair bit, but from now on think warehouse work is not for me and will try and find work that I have experience in like charity shops as well as office administration.
Oxfam Crawley have happily accepted me back as a volunteer, where I have been volunteering the last few years, and happy to be back its something to do know some great people to work with there. Later this week will be attending the famous Lewes Bonfire Night on Wednesday, as well as the usual Albion football. Finally I will finally get to meet my nephew Lucas at the end of the week for the very first time the recent newborn son of my brother Stephen and his girlfriend Lorna, so the last few weeks have been a cause of celebration in general for the Ball family decide the little job setback last week, still feel happy and upbeat, and won't let stuff get me down. Thanks for the messages of support people.