Tuesday, May 08, 2007
Cheltenham
Cheltenham VS Brighton at Whaddon Road
4 February 2006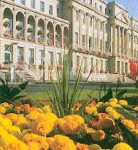 Venue: Whaddon Road, Cheltenham, Gloucestershire, England, United Kingdom
Mode of transport: Got the train thanks to the GBRA getting a train to Victoria, then the tube to Paddington, then a train stright to Swindon then changed for a train to Cheltenham Spa I went back pretty much the same way.
Pre match pub: The Cat and Fish near the ground, with Ashley Bradley and others there.
ISF members present at game: All members of the ISF were present with John Hewitt as a schoolboy Ashley Bradley as himself, and me experimenting being a lesbian with blonde hair and a fetching denim skirt.
Review of Cheltenham: Most locals seemed friendly and helpful, surprisingly the pub where I changed into my fancy dress outfit, the locals admired it and did not come out with the homophobic nonsense you would get else where. The town overall seemed a fine spa town similar to Tunbridge Wells 8/10
Review of Cheltenhams ground: Not bad for a little ground that has been done up a fair bit the last few years though not exactly Wembley 6/10
Review of food: Did not really try the food,
Price: Was cheaper than Withdean but a bit much for a game of not much meaning
Friendlyness of locals: The locals were very friendly indeed as mentioned above 8/10
Overall 8/10 Not a bad place for a away game with a few reasonable boozers, the locals were friendly and was a fine sunny day to enjoy some football and the end of season party.