Monday, June 13, 2005
SC Tour - 1. Eastbourne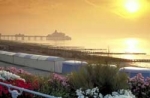 I started off my south coast tour today, visiting the coastal town of Eastbourne, in sunny Sussex By The Sea. For starters for those Burgess Hill Uncovered fans, I have found the answer to the mysterious blue paint that has appeared in BH town centre the last few weeks. I belive the paint must almost certainly have come from this town, who have used so much in a smilar style to Burgess Hill (the tennis tournys even Blue). So there u go. Anyway, sadly I have no pics as I don't own a digi cam. But after a brief venture around the town centre and sea front. I entered one of Sussexs great sporting arenas, Devonshire Park for a spot of tennis, I watched a few fab games, saw the sexy new youngster Anna Chevladize (A new improved Anna Kournikova). And met the young and upcoming player Sania Merza, who I managed to get a autograph off. There were one or two marathon matches, saw the likes of Mauresmo, Kuznetsova, Myskina all top respectable top 10 players practising on the legendary courts of Eastbourne. All in all a good day. Apart from the train system that serves Eastbourne badly, had to wait 45 minutes for a train back to Northern Sussex.
Review of Eastbourne and Devonshire Park
Friendiness of locals
All in all like most Sussex people, Eastbourne people can be friendly and helpful as I found today. 10/10
Local totty
Eastbourne girls in general can be quite fit if they dress well, though get some local girls that are pretty average looking 8/10
Arena rating
All in all Devonshires a nice place to watch tennis in a quiet laid back town, though the place is not a patch on the home of tennis Wimbledon, still a good place to watch tennis.
8/10
Cost of food at mentioned venue
Food and drinks nice at Eastbourne particully the imfamous Strawberrys, sadly food and drink can be a bit dear, price of food here is roughly the same as Withdean. 7/10
Cost of Venue entry
Good value much cheaper than Wimbledon, £5 to get into the grounds and £26 for tickets at the final good value £26
10/10
Bars and clubs in Eastbourne
Eastbourne has a few OK clubs from what I have heard, it has a very impressive Bar called BN21, but gets busy on a Weekend though from local info. Eastbournes doing a good job to erase there Gods waiting room image, though in my opinion Eastbourne will never be a Brighton or a Bournmouth.
6/10
Overall of Eastbourne
Not a bad town nice quiet and laid back, though can get a bit boring, then again at least its mostley pikey free and hosts a decent tennis event.
7.8/10