Monday, June 23, 2014
23rd June 2014
So England's challenge at the World Cup has sadly come and gone! Hopefully Hodgsons men can pull themselves together and prepare for a good Euro 2016 keep faith in youngsters and cut out the old dead wood. Which means my main focus until Brightons sporting season begins is tennis and cricket esp with Wimbledon Tennis Championships starting today! :)
Of course I twice attended the annual ATP/WTA Aegon International tennis event at Eastbourne on Sunday and Tuesday the first to see a few qualifiers on outside courts as well as the charity match on Centre Court in memory of Elena Baltacha, and pre the big charity match got to meet one of my old heroes former British No.1 and World No.4 Greg Rusedski and he was very happy to have a photo with yours truly as you can see below ( I was happy really but my aspergers can sometimes hid my happiness. lol ). Greg was there as he was part of the doubles match on the main court partnering former Wimbledon Champion Petra Kvitova, and they were up against Briton Colin Fleming and Agnie Radwanska!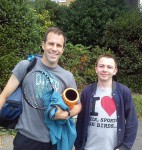 I went back on Tuesday, and saw some good young players get good wins including Madison Keys the eventual winner of the womens Eastbourne championship, the other highlight was veteran former French Open champion the stormy Francesca Schiavone, who for a moment looked like she was going to do a Jeff Tarango as she argued with the umpire on the outside courts over a call she did not like and insisted on the supervisor being called and managed to hold up play for 5 minutes. Plus I had a near miss with the lovely Italian a few years ago when a ball shot she hit accidently hit a lady next to me, and Francesca was quick to say sorry, she is quite a character on the tour and will be missed when she retires!
I also ended up having a trip to the medical centre to Devonshire Park, as around the time I was chatting to BBC South East weather girl the lovely Rachel Mackley and having photos taken, my eyes started watering due to some sun tan lotion getting into my eyes, and made it look like I was crying or reacting strangely to meeting ladies! lol After seeing me looking a bit ghastly in the photo, and fearing it would end my afternoon as tennis spectator, I went straight to the Medical Centre, and whilst there was no Tamzin from Casualty present, there was a young nurse with experience of dealing with patients at Essex air shows who also got sun tan lotion into my eyes and she managed to sort the problem getting it out of my eyes in 15 to 20 minutes and could enjoy the rest of the afternoon tennis uninterrupted!