Friday, May 11, 2007
Anne of Cleves House. Lewes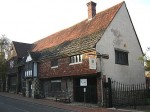 Local Museum Challenge/ 5. Anne of Cleves House, Lewes
Next up after the tiny but pleasant Crawley Museum it was off to the County Town of East Sussex sadly home to the scummy Lib Dem controlled Lewes District Council. To visit Lewes Museum and then attend the Towns main football ground the Dripping Pan to watch Andy Rumbles R.E.M.F team face the Croy*on clowns.
Mode of transport:
I travelled straight after finishing Haywards Heath College, getting the good old Southern train from Haywards Heath that went non stop to Lewes. But after the football, was a bit screwed as seemed to be no trains that would take me to Gatwick after 11.00pm so got the train to Brighton and stayed round a friend's house for the night there.
Location of museum:
It was actually near the station being a five minute walk on Southover Street the otherside of the road to a priory.
Staff friendliness: The staff seemed quite friendly the guy at the front was very knowledgeable about the Sussex museums especially.
Museum Highlights
Was actually the first museum I had to pay to get into. Though went to the fine organisation that is Sussex Past ( Behind my legendary trips to Fishbourne Roman Palace, Chichester as a kid) as a kind of donation was £3.50
First off was the former Queen consorts bedroom, which looked shockingly ordinary, though had some fine Tudor clothing to mess about with. I tried on a hat to look like a young Henry VIII
Next off was to the kitchens to see how the fine tudor cuisines were done in the 16th Century
Then I was in a upstairs room with collections of Victorian toys with a floor that appeared to be falling apart with holes (There was even a sign warning even) and I was concerned I would fall through into the East Sussex archive office (or something like that below), would have been hilarious in fact thinking about it stunning the people working in the office.
Similar to the Horsham museum it also had a fine garden. That you could have a rest in after gaining some much information on the town.
There was a good section on the history of Lewes featuring a fine trophy that was famously stolen years ago that was used for a major horse race that the town hosted.
Great stuff, I ended up leaving the museum with a replica knights ring which fits in with my fictional title of Earl of Trumpton. Was a good visit, and despite paying was quality.