Monday, April 16, 2007
Hove Museum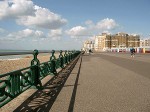 Hove Museum
Next up for Charles was his spiritual home the fine legendary twin towns of Brighton and Hove, first Charles travelled to Hove Museum where Charles found there was more to Brightons quiet twin than he realised
Mode of transport: Good old Southern (no I am not a official promoter of Southern trains) trains served me well again, got the train to Three Bridges, then the train to Haywards Heath where my season ticket takes me to, for a return ticket to Hove, I then caught a train that took me straight to Hove. The museum was about a 5-10 minutes walk from Hove Station though Aldrington Station appears to be nearer (locals correct me if I am wrong.).
Visitors: Charles
Location of museum and type of building: It is located near Hove Town Centre but seemed a sleepy part of Hove compared to the nearby town centre, on New Church Road, the building was a fine attractive large Victorian Villa.
Staff friendliness:
The staff and security were pretty friendly and helpful. Pointing me in the right direction of things, and even taking the picture of myself. Though was a bit worried at first when they told me not to take pictures in the art gallery and looked like chucking me out but was ok to take pics in other gallerys.
Museum highlights:
* Current art exhibition on ground floor looked impressive with art ranging from impressive to very bizarre indeed
* The main museum areas were on the first floor, and I first went for the history of Hove section, where I came face to face with Hoves oldest resident (see pictures), saw it how it developed from the obsecure villages of Aldrington, Hove, Hangleton and Portslade to the posh attractive home of Sussex sports twin of Brighton that it is today.
* The toy museum section was quite good with a impressive collections of things ranging from cars to a sleepy old man. One of the countrys largest vintage toy collections in fact.
* There were craft sections showing stuff by local artists
* The cinema/ filming section fascinated me as I knew little of Brighton and Hoves importance in British/ world filming in the early 20th century, it had lots of intresting objects connected with early filming such as different kinds of cameras, it showed pre world war I mini films or scenes shot in Brighton and Hove, and mentioned a lot in the life of a few major film directors that were based in Brighton and Hove before World War I.
Overall: Was a nice museum and showed there was more to Hove than I thought it was, and learn't some new stuff about the area. Was a good museum in good settings, and the staff were first class and were curious about my own site.