Monday, April 16, 2007
Brighton Museum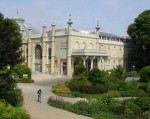 Brighton Museum
Once I finished at the fine Hove museum it was off down to Hove's larger than life twin sister Brighton to visit the fine cosmopolitan large museum they had. Welcome to Part 2 of Charles's adventure in Brighton and Hove's main town museums.
Mode of transport: Rather than get a bus from Hove Museum I decided to walk all the way seeing as it was just straight up Church Road, Palmiera Squire and Western Road, and I would be at Brighton Museum in about 20-30 minutes by foot, but I came home by train via First Capital Connect from Brighton to Three Bridges then the Southern train to Ifield. Would have been mental to decide to walk 20 or so miles from Brighton to Ifield.
Visitors: Charles
Location of museum: The museum appears to be in what was originally farmland that became royal's property on North Street, with the museum being virtually in the grounds of one of Brighton's most famous landmarks The Royal Pavilion. The museum itself is quite large, and is a fine 19th century building. It is also near some of Brighton's most notable theatres such as The Theatre Royal and The Dome.
Staff friendliness:
Bizarrely I did not speak to the staff much even though there were some nice girl tour guides around the museum. But they seemed nice and friendly and found one or two of the tour guides tasty even if they had unique hairstyles, so common of Brighton.
Museum highlights:
Like its smaller neighbour Brighton has a massive art section with international and local art, I found the hand sofa quite fascinating.
There seems to be a good African culture theme exhibition going on at Brighton museum at the mo. I was fascinated by the Nigerian masks, and the Egyptian mummies.
The Discovery room was very bizarre with a weird fireplace, and an equally quirky mirror, had I walked into the legendary Peter Crouch's living room if so good taste Sir Peter.
I love the room on Brighton's history showing maps of how the town developed, old locals discussing their experiences of town life when they were younger and how they saw the town change, to the fine bikes and of course the special Brighton and Hove Albion section. SEAGULLS! Also the section on religion in Brighton was interesting ranging from Judaism to the Christian Korean Church.
Good section on the Cosmopolitan culture of Brighton, featuring the clubbing and raving side of Brighton down the years, the Gay Lesbian side of Brighton and other stuff that makes Brighton a open minded caring and forward thinking city. It had some fine models of the early Royal Pavilion and the old Chain Pier.
Upstairs was all about Brighton fashion and art, and included some of the African stuff common in the museum. Showing all kinds of outfits to astonishing the seemingly ordinary to some interesting Goth outfits.
Overall: By and far the largest museum I am likely to visit out of the 8 museums around Sussex as part of the challenge. Was interesting and curious and you could not seem to get bored more amazed. Great stuff. LOL
Next: Will be museum No.4 at creepy Crawley, found out about what is fascinating about this fine 'little' museum and the little known connection that Crawley has with Alice in Wonderland.