Tuesday, April 10, 2007
1. Horsham Museum SFLMC 2007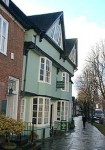 Horsham Museum
Charles Ball, began his museum challenge by travelling to the home of charity shops, Yazoo drinks, and Carl Cox by visiting the fine Historic Market Towns museum.
Mode of transport: Got the Southern train service from Ifield Station to Horsham Station where the train terminated, journey time was about 10 minutes, though can be a bit longer if you get a train that unluckily stops at the rail conductors favourite place to chuck off yobbos the tiny rural Faygate Station (as a neighbour who works for Southern trains told me beforehand), used same transport to get back home.
Alone or with a party:
Alone
Location and type of building: It is a fine former manor kind of house Causeway House, located on one of the most attractive and pleasant streets in Sussex The Causeway
At the museum
I arrived at Horsham around Lunchtime. Sadly I was not able to bring a camara along so will have to describe, I got greeted by a friendly well spoken middle aged Horsham lady on entering the museum at the reception not quite the type that would go mad about Tim Henman I should note.
One of the main features of the museum I noticed early on is its section on one of Horshams most famous sons the poet Percy Bysshe Shelley, although because he was so much a part of life in Horsham that there are other areas that show Shelley related things. One example was the first room I walked into there were various portraits of notable Horsham nobles in the last few hundred years along with old objects. One portrait especially of one of the main vicars of Horsham in the late 18th and early 19th century that somehow put Shelley off religion. Was it because the vicar services were boring I wonder and hard to understand that made Shelley turn to the Necessity of Atheism? Also in the room was some fine knight armour that looked like it would lash out at you.
Next room I seemed to travel in time and found myself in what appeared to be a
major unoccupied Victorian chemist in the town. It had all kinds of drugs (legal and illegal), a massive tobacco pipe on one of the cupboards that appeared to be one of Vincent Van Goghs old favourites. On a serious note though was intresting to see the chemist was more advanced than I thought it was especially its till which was the forerunner to the modern till. This chemist was run by a major Horsham family and supplied drugs to other smaller chemists in town including Boots.
Next up was getting a taste of the old Horsham Law courts, government and its infamouse Gaols, where all kinds of gruelling stuff happened and showed all the torture equipment used to punish or execute criminals from the Horsham area (including the proto-yobbos of old Ifield Village).Though the Gaols were modified to form the first modern kind of jails in England with a jail room built in the room I was looking in, with a life like model man, in a scary bizarre green and yellow rugby looking shirt.
After seeing the other various industrys that were prominent I finally arrived in the special section on the legendary Shelley, which mentioned his life and works and had some fine artwork of this fine gentleman. Was interesting to find out that most of the town Shelley would still recognise if he came back to life today. The house also had 2 walled gardens with a restaurant which I was not bothered to visit. 26 gallerys existed in the museum though I won't be able to discuss or show all from this fine medieval timbered building. As there was a few temporary exhibitions, with old pictures. All in all a good insight into the history of Horsham. A nice way to start the challenege. Next up its Crawley Library where I hope to bring a camera this time.
Boredom/ excitement meter: Had a lot of interesting displays and local history objects, and intresting learning the history though the odd display could seem a bit tedious
8/10 P.S This visit of this museum is dedicated to Horsham boy Tony Wales the notable Sussex Historian whose books and work on Sussex History and the infamous Sussex dialect influcenced me in my mid teens. RIP Tony Wales 1924-2007