Thursday, June 30, 2005
Not much going on at Strike Towers apart from a decision to change my lifestlyle a bit, also to keep an eye out for jobs. Well not found much job wise this week. But I went to meet up with the Sussex barmy army at the Twenty Cup game yesterday. It was my debut appearance at Hove, and I really liked the carnival atmoshepre at the game, and the anti-palace chants we were singing at the County Ground. I joined up with Scott McCarthy, the Legendary Jamie Jones, Kevin Ticehurst, Dan Collins, Burt Lloyd, John Hewitt and his brother plus Ticehurst Snr, Tom Mac and Ali Mac. Sadly the cheating Surrey Palarse lovers won in the end. And I ended up with a group of other disapointed Sussex fans at Hove Station at 11pm at night, wandering what the fuck we were doing at the station. So we decided with the gloating small group of Palace fans at the station. To start singing anti Palace tunes and Brighton chants, and it really silenced them. They know we are going to get them next season. I will put my pictures of me on Sky TV in the gallery plus a pic from the BBQ courtesy of McCarthy Industrys and Peter Chapman from Burgess Hill Uncovered. Good luck to the Lizard Ladies on Sunday

GO LIZARD LADIES FROM YOUR SPONSORS STRIKE FACTORY
Monday, June 27, 2005
Earlier today Charles Ball chairman of Strike Factorys held discussions on his PC, in Strike Towers with Laura one of the Lizard Ladies, to agree a sponsorship deal for the Race for Life being held on Sunday. This sponsorship will give charity money and the sponsorship will raise the profile of Strike Factory and the Lizard Ladies. Chairman Strike said " This is a good historic deal that will benefit charity and the two parties, and we at Strike Factory wish the Ladies best of luck on Sunday at Brighton."

http://www.raceforlifesponsorme.org/LizardLadies
Sunday, June 26, 2005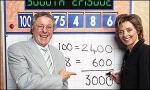 John Richard Whiteley OBE (December 28, 1943 – June 26, 2005) was a British television presenter and journalist, most famous for presenting Countdown, a letters and numbers arrangement game show on Channel 4.
Born in Bradford, West Yorkshire, Whiteley was educated at Giggleswick School, North Yorkshire and Christ's College, Cambridge. The suits and ties he wore for Countdown had a reputation for their garishness, and it was fairly frequent for his co-presenter, Carol Vorderman, to comment on this. Whiteley also told many anecdotes and puns, which were often met by groans from other presenters and members of the audience. He had a cameo role as himself in the film About a Boy.
He was nicknamed Twice Nightly Whiteley, in reference to the time when he would present Yorkshire Television's Calendar News and the Countdown programme in the same evening. In a self-referential joke, he often altered this to Once Yearly, Nearly.
Whiteley had moderate international fame from a much-used clip of him being bitten by a ferret in a TV interview. He was also one of the first journalists at the scene of the 1984 Brighton bombing, having been in Brighton's Grand Hotel at the time of the explosion. He secured the scoop of being the first journalist to interview the Prime Minister, Margaret Thatcher after the bomb.
He held the honorary title of Mayor of Wetwang.
Whiteley presented the most TV shows in history, and was awarded an OBE in the June 2004 Queen's Birthday Honours List for services to Broadcasting.
His partner was actress Kathryn Apanowicz.
He died on 26 June 2005 at Bradford Royal Infirmary during an operation to combat an infection in a heart valve following a serious case of pneumonia. Shortly beforehand he had missed his first show on Countdown in 23 years.
Rest in peace Richard, even though I was never a regular viewer of your show, I did watch the odd show since the early 90's and thought on the shows you appeared on, u performed in a funny legendary way. RIP.