Wednesday, September 16, 2015
16th September 2015
Well its been a while but have been pretty busy the last 2 weeks or so, getting my new volunteering role at Nymans, in Handcross helping out at the house telling people about history of the place as well as the usual backroom helping out stuff plus mostly female volunteers to work with who are lovely friendly people. It is great to be involved with the National Trust, which former career advisor Avi at Shaw Trust suggested a few weeks ago and I thank him for this oppertunity.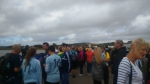 The weekend was mixed emotions as I took part in the REMF Jacobs Walk from Shoreham Tollbridge to Worthing United FC with about 250 people in memory of Jacob Schilt and Matthew Grimstone (2 Worthing United victims) and the other victims of the Shoreham Air Show Crash on Saturday. There was a moving emotional minute silence at the bridge at the start before the 4 mile walk, going via Shoreham Airport, part of the A27 footpath (not the airshow crash site), via streets in Lancing and Sompting before arriving at Worthing United FCs ground. On the walk was nice to meet the Eaton family also taking part which the charity is named after family member Robert Eaton who sadly perished in the 9/11 attacks. It was a friendly walk that was a bit quicker than some thought with bigger attendance and over £11,000 raised. Afterwards we made our way to the Amex Stadium where there was a moving pre match tribute which got me teary.
https://www.youtube.com/watch?v=0RwZ8aBmAhY
Then there was the football which saw Brighton win again and remain top of the table. Overall a mixed emotional weekend and thoughts with the family and friends of crash victims.