Monday, July 06, 2015
AEGON International Eastbourne 2015
This year's tournament the traditional annual women's tennis warmup event for Wimbledon took place in Eastbourne yet again. Despite the blow of the men's ATP event returning to Nottingham, there was an increased women's draw, and with increased pre Wimbledon break, means more top players attended than previous years. I made my annual pilgrimage to the tennis at the 'Sunshine Coast' on the Tuesday about 6 days before Wimbledon was to begin. On the way I stopped off at Eastbourne Pier where there was the fire that tragically destroyed the main arcade building near the front.
Despite the carnage the pier managed to reopen about 2-3 months later, and a year after my last visit although sad to see a blank space where the former arcade building existed (temporary as plans for a new building to replace are in motion), the rest of the pier seemed in a healthy state.
I made my way to the Devonshire Park tennis courts a bit later than planned, where on arrival I found out that local Eastbourne girl Johanna Konta had just had a shock win on the main courts over Top 10 player Ekaterina Makarova putting a rare smile on the face of false Aussie Roger Russell (well Johanna was born in Sydney after all) seeing a Brit win. After watching the odd match around the outside courts with Roger, and David Jarvis. I made my way to Court 1 to watch Aga Radwanska and Lucie Safarova in action only to discover to my horror the unofficial free restricted terrace view had finally been blocked off. I thought my day was doomed.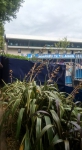 But then there was a guy leaving one of the court stands that decided to peer through what was left of the view there and after a conversation about Radwanskas Wimbledon hopes, and finding out he lived down the road from me in Crawley Down, amazingly the kind Scotsman offered me his Centre Court/ Court 1 for the rest of the days play. The chap will certainly get a free drink from me if I see him locally in future. It reminded of a story involving Abbotsford Schools colourful art teacher Mr Chris James, who was a devout fan of 3 times French Open champion Gastavo Kuerten, and following his maiden triumph at Roland Garros in 1997 wanted to do everything in his power to watch and cheer him on at Wimbledon that year. After the usual queuing for hours outside The All England Club hoping for Court 2 tickets where his fave Brazilian was due to play Aussie Jason Stoltenburg, he was disappointed to be given Centre Court tickets. Rather than enjoy the day in the Premier Stadium of Wimbledon however he wandered round Court 2 instead hoping a kind soul would swap tickets with him, however most people wandering in and out of the main outside court looked at Mr James as if he was insane. However a kind soul eventually did agree to swap tickets, and Mr James ended up enjoying a front seat view of the match on Court 2 only that Gastavo Kuerten lost to Jason Stoltenburg in 5 sets.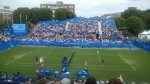 The rest of the day, I enjoyed matches on Court 1 and Centre Court watching Lucie Safarova, Caroline Wozniacki and at the end of the day was treated to a feast of a match on centre as Heather Watson, battled bravely to beat Elina Svitolina in 3 sets showing the same fight that she did against Serena Williams at Wimbledon recently, although as I made my way out at just after 8pm there was one singles match still going on the outside courts getting dark and a little cold as Camilla Georgi (whose biggest supporter Simon Cardy had an accident on tennis courts in Wigan that same day that mean't he spent time in hospital but thankfully is recovering well) lost to Daria Gavrilova in 3 grueling sets delaying my journey back to Three Bridges from Eastbourne though enjoying Chips and Sausage in batter under the towns seafront Bandstand away from prying Seagulls instead.