Wednesday, February 08, 2006
Strikes away adventures 2005/06 Coventry
4 February 2006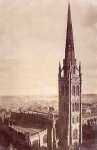 Venue: Ricoh Arena, Coventry, Warwickshire (though W.Midlands to goverment), England, United Kingdom
Mode of transport: Got a lift on the Roguemobile, getting to Covvers, via the A23, M23, M25, and the M1 parking at the nearby town of Bedworth for the 20 minute walk through a posh rural suburb and a dodgy looking estate to get to the ground
Pre match drinks: At a nice pub with mostly Albion in Bedworth
ISF members present at game: All members of the ISF including new member Bakesy were present at the game.
Review of Coventry: Did not see a great deal of Coventry and did not go the the city centre, but u must bear in mind that during World War II, sadly a lot of the old city was bombed. not much of it exists, I walked through what seemed a nice old suburb, and then a dodgy looking indrustrial estate, the new ground and leisure park were impressive, and locals seemed ok 6/10
Review of Coventrys ground: A great new ground, looks impressive on the outside and the inside, atmosherpe was good inside, acoustics were good, shame a small group of idiots decided to throw bottles at us, all in all good day out bar the result. 8/10
Review of food: Food was OK but nothing to exciting, a bit dear, 6/10,
Price: The price was fair for what u got not bad but only a pound less than Withers 7.5/10
Friendlyness of locals: Some locals I met in nearby Bedworth and Coventry seemed friendly and helpful, but there seemed to be a small group, that enjoyed throwing bottles at away fans 7.5/10
Overall 7/10 Not a bad place for a away game with a few reasonable boozers, a nice ground and most locals being bit of a mix, it was nice to visit a new ground, just a shame about the result.