Sunday, September 11, 2011
Its been a generally quiet last decade for our friends accross the North Sea when it comes to tennis since the retirement of legend Steffi Graf, and the premature disaparence of former World No.4 beauty Anke Huber! Its been a tough act to follow in the footsteps of the previous generation in the noughties! But in the last 2 or 3 years has emerged a new generation of attractive stunning German tennis stars 3 have reached the top 20 the last year, and 1 has cracked the top 10 Andrea Petkovic! The grand slams have seen two women reach semi finals unseeded with the lovely Sabine Lisicki reaching the semi finals at Wimbledon and winning the hearts of Englishmen during her wonderful run that saw her start to demonstrate the talent and promise after a long injury lay off in a few months rising from outside the top 200 to enter the top 20!
Below left Sabine Lisicki right Angelique Kerber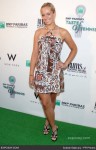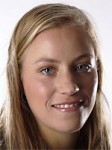 In the last week at the US Open there has been another surprise run at a grand slam by a unseeded German woman of Polish descent her name is Angelique Kerber, 23 a lovely left hander who reached the semi finals only to be undone by Australian Sam Stosur! Oh to be in the shoes of German Fed Cup captain Barbara Rittner former WTA pro, and have the choice of playing Petkovic, Lisicki, Goerges, and Kerber in the national team that looks set to rule the world on and off the court!
Thursday, September 08, 2011
If only back in the mid 1990s instead of building worlds largest tennis stadium, the Arthur Ashe at Flushing Meadows they had listened to the likes of John Mcenroe who argued at the time they should have a roof like Melbourne Park has had for Australian Open since 1988! Then there would not be the rain messing up scheduling. Now they cant afford a roof as it would cost a bomb to stick on top of Arthur Ashe Stadium and USTA instead has to invest in its future tennis stars!
Now it looks like another mens Monday final (Mens semis to be played on Saturday). But even more surprising is the crazy scheduling of the womens matches the semi finals will be on a Saturday EVENING :shock: and then play their final the next day on a SUNDAY! Already there has been players complaining of scheduling this week! Isn't that a bit of an insult for womens tennis to not have a break like the mens! Plus why dont they use covers for the courts when it rains rather than mops and towels. If anyone wanders I am not anti US Open, I happen to be a fan of the event and you cant beat the lovely evening matches, esp this all Serbian tussle between Djokovic and Tipsaervic going on as I write this entry.